Estate Planning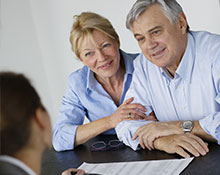 Estate planning is not only for the elderly or wealthy. Any person who wishes to protect his or her heirs from the frustration and expense associated with probate or guardianship can benefit from an estate plan. Few things worsen the tragedy of an unexpected death or incapacitation more than the struggle of sorting out a loved one's estate. For this reason, Dryer and Associates, P.C. is determined to help you create a plan that will protect your family regardless of the size of your estate.
A well drafted estate plan can save your loved ones thousands of dollars and many hours by avoiding the court administered systems of probate and guardianship. These become necessary when a person dies or becomes incapacitated without proper provisions. An estate plan also makes it easier for your heirs to determine and execute your wishes, which helps avoid conflicts within your family during already trying times.
Even if you already have estate planning documents in place, they should be reviewed if you have moved to a different state, if your assets have changed, or if your children and heirs have experienced life changes, such as having children of their own. Your estate plan should also be reviewed every ten years to make sure that you are keeping up with changing legal circumstances and tax codes.
Dryer and Associates, P.C. can assist with the preparation of wills, trusts, powers of attorney, and advance directives for health care/living wills and can also create supplemental documents to revise or update an estate plan that is already in place. Each estate plan is customized to your individual needs and situation and is designed to minimize emotional and financial burdens on your family.